We hope you will find the information that you are seeking here.If not, please do not hesitate to contact us to inquire.
Alcoholics Anonymous is a fellowship of people who share their experience, strength and hope with each other that they may solve their common problem and help others to recover from alcoholism. The only requirement for membership is a desire to stop drinking. There are no dues or fees for A.A. membership; we are self-supporting through our own contributions. A.A. is not allied with any sect, denomination, politics, organization or institution; does not wish to engage in any controversy, neither endorses nor opposes any causes. Our primary purpose is to stay sober and help other alcoholics to achieve sobriety.  
Copyright  The A.A. ©Grapevine, Inc. reprinted with permission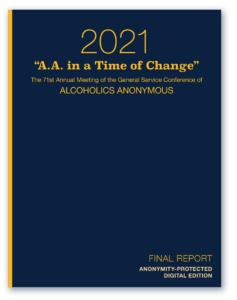 71st General Service Conference Final Reports (digital versions) are completed, thanks to the GSO's Publishing Team! 
64th Annual Eastern Pennsylvania General Service Convention and Assembly
November 12-14, 2021
Wyndham Resort • 2300 Lincoln Hwy East • Lancaster, PA 17602
Program (Draft) click HERE
To register online please click HERE   |    For a mail-in registration form please click HERE   |   For more details, please click HERE.
Those attending the Convention can fill out this form to volunteer at the event, please click HERE
Would you like to make a contribution toward the Hospitality Suite? If so, please click HERE
Copyright 2021 Eastern Pennsylvania General Service Area 59 of Alcoholics Anonymous. This website is not endorsed nor approved by Alcoholics Anonymous World Services Inc. Some of the items at the site might have been published by A.A. World Services Inc., but it is not to be assumed that their use implies consensual approval by the General Service Conference. Alcoholics Anonymous, A.A., and the Big Book are registered trademarks of Alcoholics Anonymous World Services, Inc. The Grapevine, A.A. Grapevine and La Vina are registered trademarks of A.A. Grapevine, Inc.